Today was a Dartmoor Dave solo day!  A day to wander into the most remote part of the moor, walking using map & compass only, in as straight a line as the bogs would allow!  The main motivation for today's trek were the new Hobo & Miss Kneeset Triangle caches, and of course to knock off a few more Dartmoor Forest caches.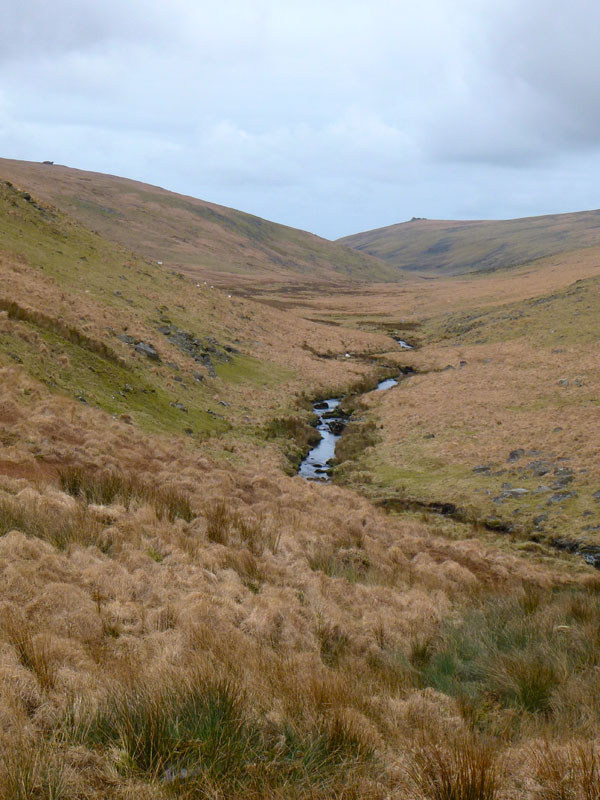 The day started really well with easy finds on most of the caches, the highlight of the day being the Kneeset Triangle.  Somehow I have missed this little bit of the moor and was very impressed by the scenery and the Okement River valley.  Unfortunately the day was not conducive to decent photography, but I did manage a couple of the Okement valley.  The Kneeset Triangle caches were very enjoyable and the bonus cache well worth the effort. Highly recommended if you are prepared to walk into this remote part of the moor.
The day went rapidly downhill after Kneeset with a difficult river crossing, a steep climb, a DNF at the very boggy Stenga Tor and the last two and a half miles by torchlight.  But, still a very enjoyable day with 11 of my targeted 14 caches found with 1 DNF on a trek of over 13 miles taking 10 hours!