Have you joined the Dartmoor Geocaching Facebook group? – please click here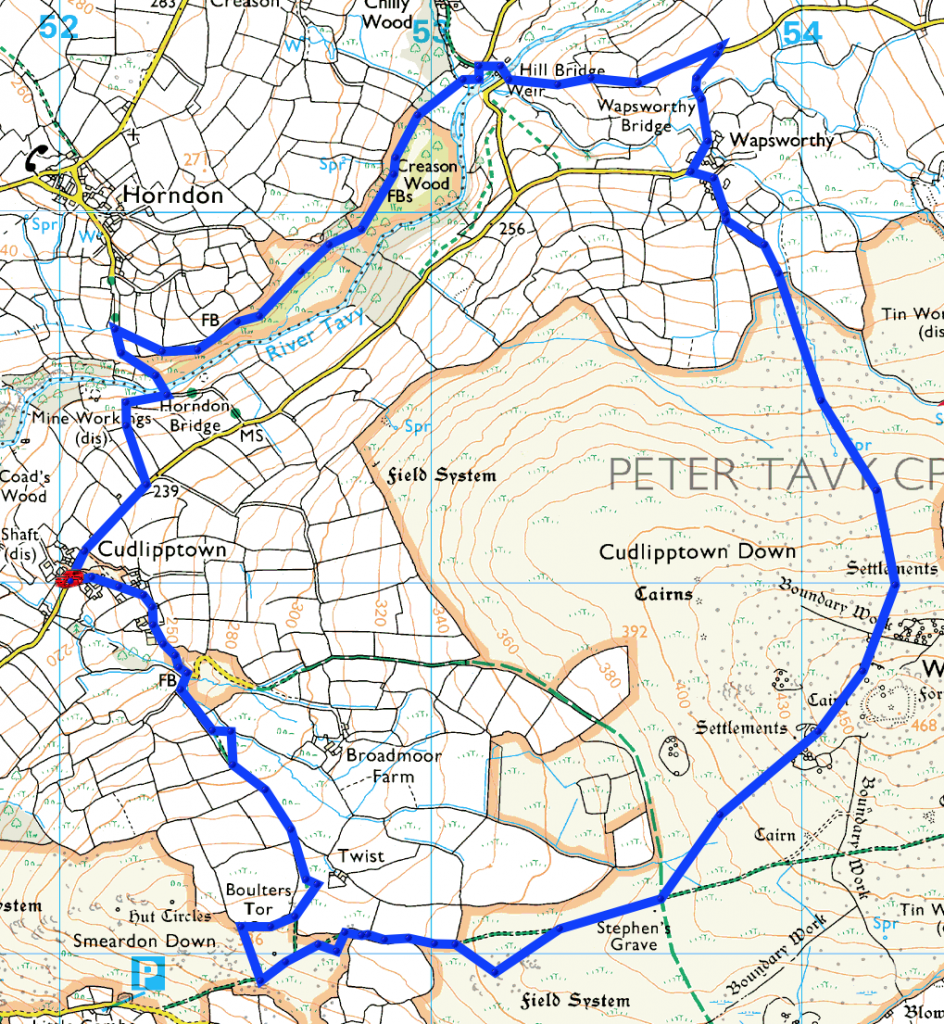 Name: Cudlipptown Down Trail
No. of Caches: 32 (includes 9 other caches on route and 3 very close to route)
Length: 5.5 miles to be completed clockwise
Owner: Dartmoor Dave with 5 additional caches by wanderingwillies
Cache Types: A wide variety of cache types with many large enough to hold swag and trackables and all have been hidden to be easily found, although there are 2 very easy tree climbs.
Bonus Caches: 1 bonus cache near the end of the series. Only 6 bonus numbers need to be collected, all of which are repeated in a second cache.
Terrain: There are reasonable paths on much of the route, but not between CDT07 and CDT13 which is typical moorland grass, although fairly dry, even in winter. There is only one real climb, up towards White Tor and for some this might be a little strenuous. However, once on the open moor this is a fairly remote walk and adequate clothing is essential. Do NOT rely solely on your GPS.
Parking: Parking for about 3 cars on the road at the start point where shown. Additional parking at Hill Bridge, Wapsworthy and Smeardon Down.
Description: A circular walk which is not too strenuous and passes through a wide variety of terrain, including grazing land, a beautiful stretch along the Mine Leat and a long stretch of open moor with spectacular views. This walk is close to, but not in, the Merrivale Army Range, and providing you park at the recommended parking and keep to the route, any red flags you see can be safely ignored, but do NOT walk past any range poles when the red flags are flying. Allow at least 5 to 6 hours.
| Name | GC Code | Placed | Type | Size | Diff | Terr | PMO | FP% | Owner |
| --- | --- | --- | --- | --- | --- | --- | --- | --- | --- |
| CDT01 - Cudlipptown Down Trail - Sonic | GC85VN3 | 04/05/19 | Traditional | Other | 2 | 1.5 | N | 15.29 | Dartmoor Dave |
| CDT02 - Cudlipptown Down Trail - Tree | GC84E88 | 09/05/19 | Traditional | Small | 2 | 2 | N | 2.44 | Dartmoor Dave |
| "Little Bridges # 1619 Horndon" | GC84KF3 | 11/03/19 | Traditional | Small | 1.5 | 1.5 | Y | 4.71 | wanderingwillies |
| "Horndon" | GC84KF8 | 11/03/19 | Traditional | Small | 1.5 | 1.5 | Y | 1.52 | wanderingwillies |
| Little Bridges # 1434 Hill Bridge Leat | GC7M1P6 | 25/03/18 | Traditional | Small | 1.5 | 1.5 | Y | 8.99 | wanderingwillies |
| Little Bridges # 1766 - Mine Leat | GC8FWXN | 02/05/19 | Traditional | Small | 2.5 | 3.5 | N | 29.41 | Dartmoor Dave |
| Little Bridges # 1649 - Mine Leat Too | GC84EK4 | 02/05/19 | Traditional | Small | 2 | 2.5 | N | 12.50 | Dartmoor Dave |
| "Little Bridges # 1620 Hill Bridge Mine Leat" | GC84KFE | 11/03/19 | Traditional | Small | 1.5 | 1.5 | Y | 8.54 | wanderingwillies |
| CDT03 - Cudlipptown Down Trail - Rocks | GC84EJD | 02/05/19 | Traditional | Small | 2 | 2.5 | N | 1.33 | Dartmoor Dave |
| CDT04 - Cudlipptown Down Trail - Rock Heap | GC84EJF | 02/05/19 | Traditional | Small | 2 | 2.5 | N | 0.00 | Dartmoor Dave |
| CDT05 - Cudlipptown Down Trail - More Rocks | GC84EJG | 02/05/19 | Traditional | Small | 2 | 2 | N | 0.00 | Dartmoor Dave |
| CDT06 - Cudlipptown Down Trail - Tree | GC84EJH | 02/05/19 | Traditional | Small | 2 | 1.5 | N | 0.00 | Dartmoor Dave |
| CDT07 - Cudlipptown Down Trail - Bison | GC84EJN | 04/05/19 | Traditional | Micro | 2.5 | 3.5 | N | 4.41 | Dartmoor Dave |
| Little Bridges#1435 - Wapsworthy/Cudlipptown Down | GC7M1Q2 | 25/03/18 | Traditional | Small | 1.5 | 2 | Y | 3.90 | wanderingwillies |
| CDT08 - Cudlipptown Down Trail - Flying Saucer | GC84EJP | 04/05/19 | Traditional | Small | 2 | 2.5 | N | 1.45 | Dartmoor Dave |
| CDT09 - Cudlipptown Down Trail - Rock | GC84EJT | 04/05/19 | Traditional | Small | 2 | 2.5 | N | 1.45 | Dartmoor Dave |
| CDT10 - Cudlipptown Down Trail - Split Rock | GC84EK0 | 04/05/19 | Traditional | Small | 2 | 2.5 | N | 2.90 | Dartmoor Dave |
| CDT11 - Cudlipptown Down Trail - Tor | GC84EK3 | 05/05/19 | Traditional | Small | 2 | 3 | N | 5.80 | Dartmoor Dave |
| White Tor | GC3X9M3 | 12/11/13 | Traditional | Small | 2 | 3 | N | 7.22 | Dartmoor Dave |
| CDT12 - Cudlipptown Down Trail - Rocks | GC86HW1 | 05/05/19 | Traditional | Small | 2 | 2.5 | N | 2.86 | Dartmoor Dave |
| White Tor (Lower) | GC7QT0T | 05/06/18 | Traditional | Small | 2 | 3 | N | 9.52 | Dartmoor Dave |
| CDT13 - Cudlipptown Down Trail - Almost Down | GC86HW4 | 05/05/19 | Traditional | Small | 2 | 2.5 | N | 1.43 | Dartmoor Dave |
| Stephen's Grave | GC86HW6 | 10/05/19 | Traditional | Other | 2 | 2.5 | N | 23.94 | Dartmoor Dave |
| CDT14 - Cudlipptown Down Trail - Mini Tor | GC86HWC | 30/04/19 | Traditional | Small | 2 | 2.5 | N | 1.41 | Dartmoor Dave |
| CDT15 - Cudlipptown Down Trail - Smeardon Down | GC86HWE | 30/04/19 | Traditional | Small | 2 | 2.5 | N | 2.74 | Dartmoor Dave |
| CDT16 - Cudlipptown Down Trail - Tor | GC86HWG | 30/04/19 | Traditional | Small | 2 | 3 | N | 2.86 | Dartmoor Dave |
| Boulters Tor | GC7WG38 | 21/08/18 | Traditional | Small | 2.5 | 3 | N | 8.77 | Dartmoor Dave |
| CDT17 - Cudlipptown Down Trail - Boulder | GC86HWK | 30/04/19 | Traditional | Small | 2 | 2.5 | N | 7.04 | Dartmoor Dave |
| CDT18 - Cudlipptown Down Trail - Gate | GC86HWM | 11/05/19 | Traditional | Small | 2 | 2.5 | N | 4.29 | Dartmoor Dave |
| CDT19 - Cudlipptown Down Trail - Brook | GC86HWN | 30/04/19 | Traditional | Small | 2 | 2.5 | N | 2.86 | Dartmoor Dave |
| Little Bridges # 1318 Cudlipptown Brook | GC7F0GP | 17/11/17 | Traditional | Small | 2 | 2 | N | 10.13 | Dartmoor Dave |
| Cudlipptown Down Trail - Bonus | GC86HWX | 12/05/19 | Unknown | Small | 3 | 2 | N | 59.65 | Dartmoor Dave |
FP% - I've used the percentage of FPs to rate caches. This is better than using the simple count which will soon get out of date and need updating. The percentage should remain fairly constant over time.
Updated 23rd January, 2020