Just what have we done to upset the weather gods! It was obvious several days ahead that once again New Year's Day was going to be the worse weather day of either the week before or the week after. In fact it was about the only day in nearly 2 weeks in which we had any rain!

This year we had run out of local tors on which to place caches so I decided that we would have a go at the rivers instead – and what a great choice that turned out to be. This year was almost certainly the best for participation in the pre-event race with several teams enthusiastically participating. The format was similar to previous years with a mixture of Groundspeak and opencaches and I was pleasantly surprised at the number of opencaches logged. The photos I have included were taken by Lisa Canning and shared on facebook, so many thanks to her.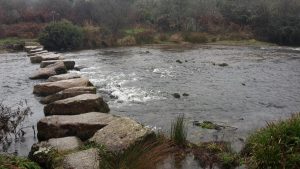 It appears that no fewer than 8 caching names attempted one or more of the 10 caches (although there is at least one still to log!) and 2 found all 10 caches. Very well done to wheelybarrow for FTF on the bonus cache and to the Truffelites for coming second. Also I am very pleased to see that 5 caching names logged their opencaches. If you haven't done so yet, please do register with opencaching and log those finds.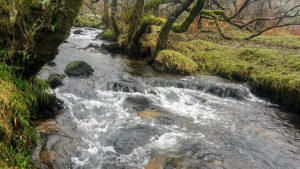 The other amazing and very gratifying feature of the whole day, was the wonderful quality of the logs posted, not only for the Five Rivers Challenge but for the Cream Tea event which followed. Many thanks to everybody who took the time and effort to write such wonderfully enthusiastic logs – definitely the best set of logs I've ever received.
The attendance at the event was down on 2016, but that probably suited everybody. There was just about enough room for all to sit this year and those who helped run it were certainly grateful for the reduced numbers. Not that it was in any way a failure, we still had 38 attend logs and served 67 cream teas!

With the attendance being down it was to be expected that the money raised would also be down, but it was still a great effort by all concerned so many thanks indeed for coming and bringing your money for the cream teas, raffle and auctions. The cream teas raised £181.50, the raffle £160, the auctions £40 and we had another donation of £15, so a grand total of £396.50, which we will round up to £400.

As usual special thanks to all my helpers for their marvellous work, to Rosie and Paul (landlords of the East Dart) for free use of their hotel and to Sue (behind the bar) and her husband Mike for giving their time free and working so hard in preparing the room, helping with the cream teas and clearing up afterwards. Last, but by no means least, my usual thanks to everybody for bringing the raffle prizes and of course to Caroline who once again offered to sell them. Many, many thanks to all.

As announced before, the proceeds (and there are no deductions whatsoever) will be split between the Devon Air Ambulance (£270) and the Devon Mega (£130).