Have you joined the Dartmoor Geocaching Facebook group? – please click here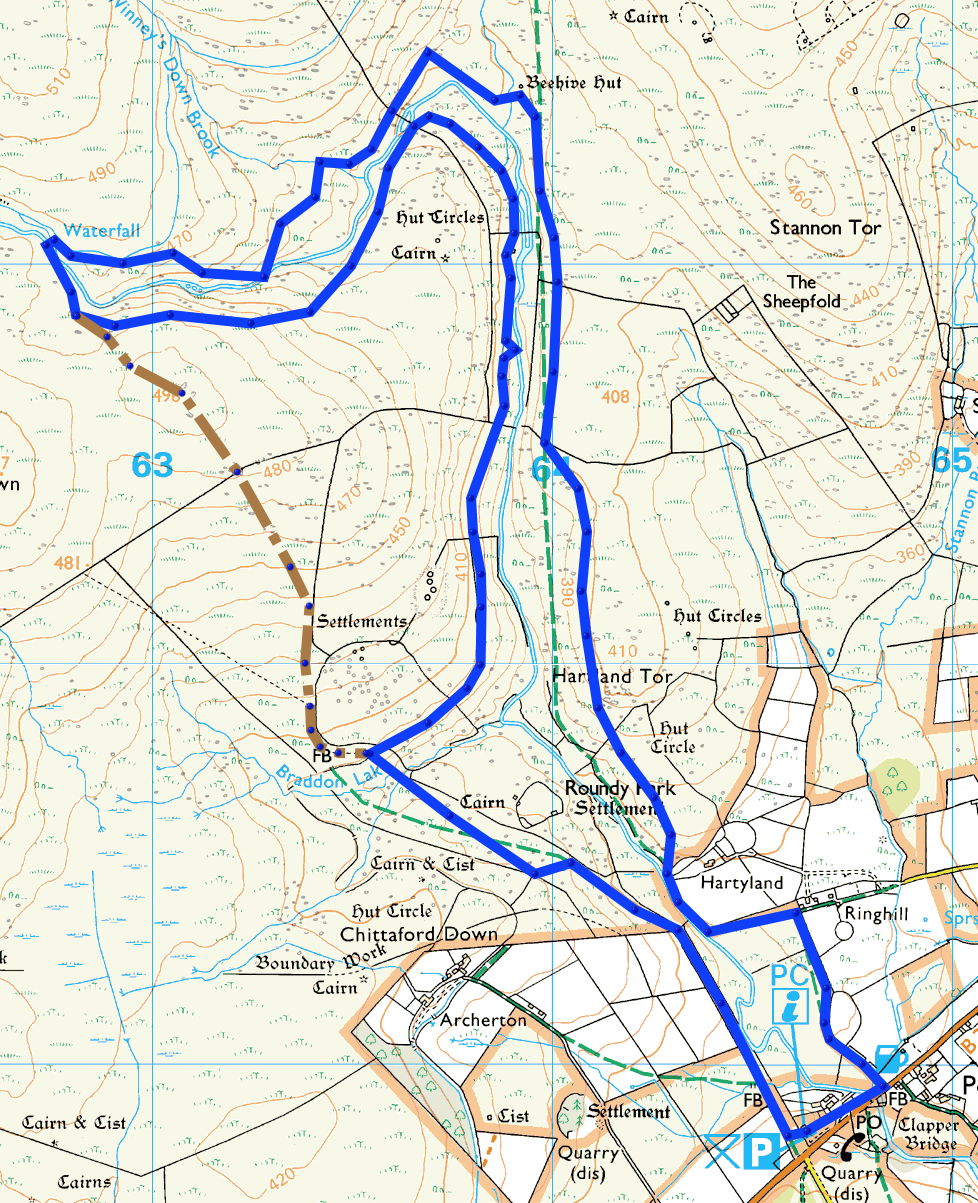 Name: Dart'moor's Double Dozen
No. of Caches: 32 (includes 5 other caches on route by the same CO)
Length: 6.5 miles to be completed anti-clockwise
Time: Allow at least 5 to 6 hours
Owner: Dartmoor Dave
Cache Types: A variety of cache types with many large enough to hold swag and trackables. A few of the caches are not easy to find.
Bonus Caches: 1 bonus cache halfway through the series and 2 near the end of the series. 19 bonus numbers need to be collected, none of which are repeated in a second cache.
Terrain: There are reasonable paths on much of the route, but not between DDD13 and DDD15. The route is mainly flat as it follows the East Dart and the leat. There is one gentle climb up to Hartland Tor near the start. However, this is a fairly remote walk and adequate clothing is essential.
Parking: Pay & Display at the main Postbridge car park near the visitor centre on the south of the route. Free parking is available opposite the East Dart Hotel or across the road in Bellever Forest.
Description: A circular walk which takes you upstream along the East Dart river from Postbridge, crosses the river at the waterfall and brings you back on the other side of the river. Fantastic views of the river, the surrounding valley and of the waterfall.
IMPORTANT NOTE: It is not always possible to cross the East Dart at the waterfall after heavy rain and EXTREME CAUTION must be taken at all times. The staff at the Visitor Centre should be able to advise you of the state of the river at the waterfall.
The route shown with the dotted brown line is an easy shortcut back to the car park from the waterfall.
| Name | GC Code | Placed | Type | Size | Diff | Terr | PMO | FP% | Owner |
| --- | --- | --- | --- | --- | --- | --- | --- | --- | --- |
| Dart'moor's Double Dozen 01 | GC4EMMF | 20/06/13 | Traditional | Micro | 3 | 1.5 | N | 15.4 | Dartmoor Dave |
| Dart'moor's Double Dozen 02 | GC4EMRF | 20/06/13 | Traditional | Micro | 1.5 | 1.5 | N | 1.07 | Dartmoor Dave |
| Dart'moor's Double Dozen 03 | GC4EMRV | 20/06/13 | Traditional | Micro | 2.5 | 1.5 | N | 4.74 | Dartmoor Dave |
| Dart'moor's Double Dozen 04 | GC4EMRZ | 20/06/13 | Traditional | Small | 2 | 2 | N | 0.29 | Dartmoor Dave |
| Dart'moor's Double Dozen 05 | GC4EMT4 | 20/06/13 | Traditional | Small | 2 | 2.5 | N | 0.61 | Dartmoor Dave |
| Hartland Tor | GC83YZ1 | 22/03/19 | Traditional | Small | 2 | 2.5 | N | 3.03 | Dartmoor Dave |
| Dart'moor's Double Dozen 06 | GC4EMT5 | 20/06/13 | Traditional | Small | 2 | 2.5 | N | 0.32 | Dartmoor Dave |
| Dart'moor's Double Dozen 07 | GC4EMTC | 20/06/13 | Traditional | Small | 2 | 2.5 | N | 0.63 | Dartmoor Dave |
| Dart'moor's Double Dozen 08 | GC4EMTE | 20/06/13 | Traditional | Micro | 2 | 2.5 | N | 2.7 | Dartmoor Dave |
| Dart'moor's Double Dozen 09 | GC4EMTM | 20/06/13 | Traditional | Small | 2 | 2.5 | N | 2.02 | Dartmoor Dave |
| Beehive Hut | GC3JP3Y | 05/05/12 | Traditional | Small | 2 | 3 | N | 4.81 | Dartmoor Dave |
| Dart'moor's Double Dozen 10 | GC4EMTV | 20/06/13 | Traditional | Small | 2 | 3 | N | 2.46 | Dartmoor Dave |
| East Dart Island | GC46EJF | 22/02/13 | Traditional | Micro | 3.5 | 3 | N | 21.43 | Dartmoor Dave |
| Dart'moor's Double Dozen 11 | GC4EMTZ | 20/06/13 | Traditional | Micro | 3.5 | 3 | N | 16.8 | Dartmoor Dave |
| Dart'moor's Double Dozen 12 | GC4EMV6 | 20/06/13 | Traditional | Micro | 3 | 3.5 | N | 12.86 | Dartmoor Dave |
| Dart'moor's Double Dozen Bonus A | GC4EMVA | 02/07/13 | Mystery | Small | 4 | 4 | N | 28.57 | Dartmoor Dave |
| East Dart Waterfall | GC46EHX | 22/02/13 | Traditional | Small | 2 | 3 | N | 16.67 | Dartmoor Dave |
| Near the Waterfall | GCX5EA | 15/07/06 | Traditional | Micro | 2 | 3 | N | 8.29 | Dartmoor Dave |
| Dart'moor's Double Dozen 13 | GC4ENMG | 21/06/13 | Traditional | Small | 2 | 3 | N | 1.1 | Dartmoor Dave |
| Dart'moor's Double Dozen 14 | GC4ENMJ | 21/06/13 | Traditional | Small | 2 | 3 | N | 0 | Dartmoor Dave |
| Dart'moor's Double Dozen 15 | GC4ENMW | 21/06/13 | Traditional | Small | 2 | 2.5 | N | 0.96 | Dartmoor Dave |
| Dart'moor's Double Dozen 16 | GC4ENP3 | 21/06/13 | Traditional | Small | 2 | 2.5 | N | 0 | Dartmoor Dave |
| Dart'moor's Double Dozen 17 | GC4ENP5 | 21/06/13 | Traditional | Other | 3.5 | 2.5 | N | 21.05 | Dartmoor Dave |
| Dart'moor's Double Dozen 18 | GC4ENP9 | 21/06/13 | Traditional | Small | 2 | 2.5 | N | 0.95 | Dartmoor Dave |
| Dart'moor's Double Dozen 19 | GC4ENPB | 21/06/13 | Traditional | Small | 2 | 2.5 | N | 1.71 | Dartmoor Dave |
| Dart'moor's Double Dozen 20 | GC4ENPH | 21/06/13 | Traditional | Small | 2 | 2.5 | N | 1.48 | Dartmoor Dave |
| Dart'moor's Double Dozen 21 | GC4ENPJ | 21/06/13 | Traditional | Small | 2 | 2.5 | N | 1.82 | Dartmoor Dave |
| Dart'moor's Double Dozen 22 | GC4ENPN | 21/06/13 | Traditional | Micro | 3 | 2 | N | 11.61 | Dartmoor Dave |
| Dart'moor's Double Dozen 23 | GC4ENPQ | 21/06/13 | Traditional | Micro | 2.5 | 2 | N | 4.28 | Dartmoor Dave |
| Dart'moor's Double Dozen 24 | GC4ENPT | 21/06/13 | Traditional | Micro | 2 | 1.5 | N | 19.18 | Dartmoor Dave |
| Dart'moor's Double Dozen Bonus B | GC4ENQ0 | 04/07/13 | Mystery | Small | 4 | 2 | N | 19.4 | Dartmoor Dave |
| Dart'moor's Double Dozen Bonus C | GC4ENQ9 | 04/07/13 | Mystery | Small | 4 | 2 | N | 38.6 | Dartmoor Dave |
FP% - I've used the percentage of FPs to rate caches. This is better than using the simple count which will soon get out of date and need updating. The percentage should remain fairly constant over time.
Updated 23rd January, 2020