This isn't a formal review of Cachly, but an example of a day's caching on a remote part of Dartmoor with an iPhone but no phone signal. Click on a photo to enlarge it.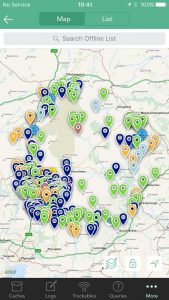 I've been beta testing Cachly for some months now and have been amazed at the functionality available and the frequency of releases from the developer. My main interest though is to see how it performs when there is no phone signal, so all my testing has been done offline. To start you need to create an offline list of the caches you are interested in and this is a very easy process. The caches are either based around your current location or another location and they download in batches of 50 caches, with a large selection of search criteria. You obviously need wifi or a phone signal to download them! Once downloaded they can then be saved for offline use and you can save photos and/or maps with them and you get a warning of how much space this will take.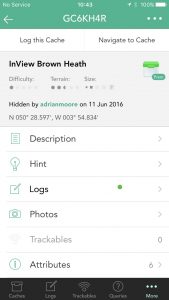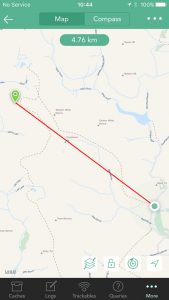 The caches I downloaded were my nearest 300 unfound caches. Interesting to see that my DNFs are shown with a blue sad face. I then drove to the point shown towards the south-east of the map from where I started my walk. The planned length of my walk was about 9 miles and I knew it would take the majority of the day. The first cache was InView Brown Heath and the single green spot next to Logs means that only the publish log exists – so maybe a FTF

Tapping Navigate to Cache displays the map of the cache and the distance to it, in this case nearly 5km. The offline maps displayed are excellent and even at this scale show the main tracks, rivers and lakes etc.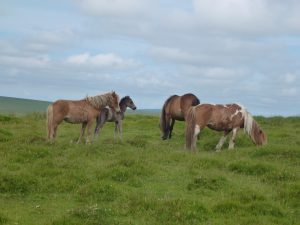 It was a great day for walking but I was well aware that I had at least 6 hours walking and the iPhone battery would never last that long. So I carry an Anker charger but knew that it wouldn't be needed until I stopped for lunch. I'm not certain if I am right, but I am of the opinion that the battery will last longer if the phone is in airplane mode, especially if the phone signal is very intermittent, so I always select that. This is Dartmoor so it was not surprising to see some Dartmoor ponies, but I didn't immediately spot the little foal hidden behind its mother.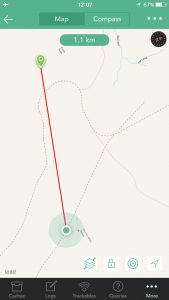 As I got nearer my goal I zoomed the map in and it showed a greater level of detail including footpaths that hadn't been visible on the smaller scale. This certainly gives the level of detail required for caching in open and remote countryside such as Dartmoor. I also switched to the very well designed compass which seemed to work easily and took me straight to the cache. One criticism is that the map showing the cache you are navigating to, gives neither the name nor code of the cache.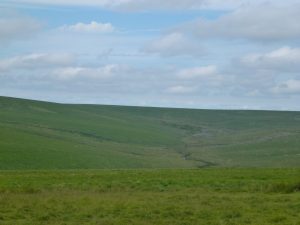 On arrival at the cache I was very pleased, and relieved, to see that I was indeed FTF. Had I had a phone signal I could have logged a find then and there, but without one I could either write a log to be sent later or write a cache note, which I can then refer to later. This is a lovely spot on Dartmoor's south moor, although many would find it rather featureless without any stunning views.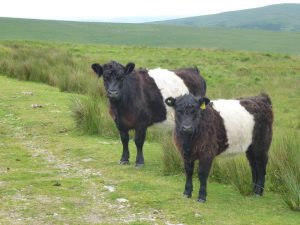 After my first to find at this cache I placed a couple of caches during which time I stopped for lunch. My iPhone battery had dropped to 49% charged but having connected it to the Anker it soon recovered to 68%. It is noticeable, however, that the battery seems to loose its charge quicker as the charge diminishes, so it goes much quicker from 50% to 20% than it does from 100% to 70%. I needed to charge the iPhone a couple of times more at future stops, but not whilst I was actually walking, so it wasn't a huge problem. Not exactly native Dartmoor cattle, but the Belted Galloways are my favourite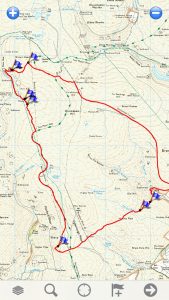 By the time I had finished my walk I had completed 10.2 miles taking just over 6 hours. I had one further FTF, another find and I placed two new caches. Apart from placing the caches, I only used the iPhone throughout the whole day. I carried a Garmin GPS which was only switched on to check the iPhone coordinates when placing the caches, map and compass, which I never looked at, and a satellite tracker in case I had a problem. My iPhone was also running Memory-Map to keep a record of my track. It is very clear to me that the combination of iPhone, Cachly and an Anker charger, is all you need for the most remote and difficult walks, although map and compass backup is essential.