Welcome to the third Dartmoor Geocoin Race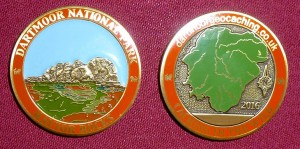 Once again I am pleased to say that there is demand for another Dartmoor Geocoin Race and you all seem keen to start it earlier this year. Many of you have already got your coins so as Easter is fast approaching I suggest we kick it off this weekend!
As in previous years, I don't want a complicated set of rules and I am sure that everybody will play fair:
The same as last year, I am only going to count the number of miles travelled.
Please do not give coins to friends to take somewhere. All coins must be released into a cache to be picked up by anybody, not somebody known to you.
Only original Dartmoor 2016 coins can be used – no nasty proxies please!
Coins must start the race with zero mileage – if any mileage has already been recorded please delete those logs.
If you buy a second coin from me at a cheaper rate it MUST be entered in the race. A couple last year never got started which is not fair on others who paid the normal price for their coins.
Once again I will award 2017 Dartmoor Geocoins for the coins with the top 3 mileages.
Some things to consider which have been learnt from previous years:
You can get a really good start by placing your geocoin in a travel bug hotel. However, these could be more at risk than a normal cache. You also may want to avoid a cache & dash or place it in a PM only cache. However, after it has been retrieved you will have no control.
Take time to explain on the trackable page all about the race that it is in. Also include a photo of the geocoin (you can use my one if you wish). Also attach something to the coin itself explaining exactly what is expected of the finder. We have so many new cachers and many will not know what they should do when they find it.
Constantly track your coin and ensure that it is immediately logged when it is retrieved. Send emails to chase this up if it doesn't happen quickly. Don't let cachers forget they have it!
The geocoin will remain your property and you can set whatever goals you would like on the geocoin page. I would ask you NOT to remove the geocoin's name but to add to it, e.g. it comes named as Dartmoor National Park 2016 Geocoin, so you could add Sue's ….. to the front of it. That way everybody can still search for it and I can produce some race details.
If you haven't already got a coin for the race please contact me by email at davidgmartin@me.com or add a comment below. If you have already bought one 2016 Dartmoor Geocoin I can supply a second one for only £9, but it must be entered in the race.