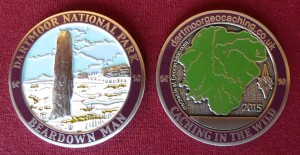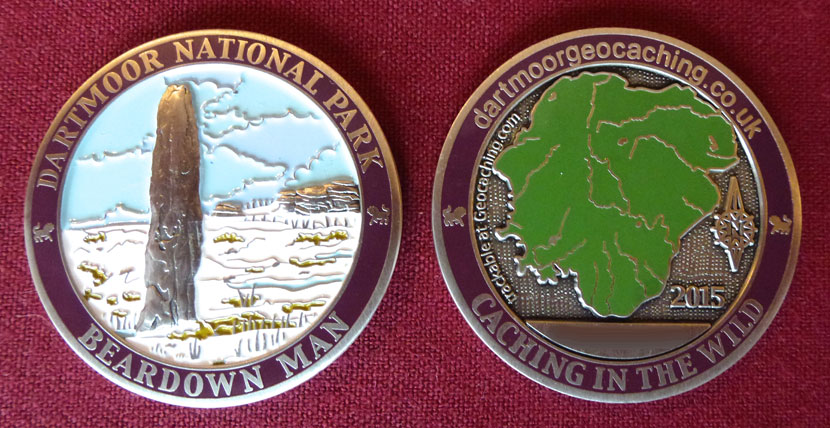 A late journey to New York from New Zealand made Christine an easy winner in this year's Dartmoor Geocoin Race. The trip of nearly 9,000 miles took Christine's coin from 3rd place to first for an easy win by nearly 7,00 miles.

Unfortunately the previous leader's coin, owned by Justine, has not been seen since 25th September and has now been marked as missing,

but might still reappear as coins often do.
Considering that Kevin's and Sue's coin didn't even get placed until August, it is amazing they they managed to finish third with Tammie's coin fourth. The top 4 coins have a total mileage of over 63,000 miles and visited places all over the world, including two going to New Zealand and one to Hawaii. Trips to Europe and America by the race participants were almost common place, with almost all the coins reaching foreign countries at some stage.
What is really amazing is that out of 27 coins which started the race, it appears that 20 of them are still being moved around, which is excellent considering the quality of these coins and all the bad news stories that are always being circulated regarding trackables. Two of these 20 coins did reappear after it was thought likely that they had been lost, so you should never give up hoping.
I did say that I would offer 4 prizes if we received 30 entries, and it is no fault of those participating that some coins never got activated or placed. I will therefore honour that and award 2016 Dartmoor Geocoins to the first 4 in the race.

So that's all for the 2015 race, we will start the 2016 one some time in the new year and hope for the same great support that we had this year. Many thanks indeed!

Name/Geocoin Link
Cacher Name
Miles Travelled
Last Location
Status
Christine Hutchins
chutch74
21,955.2
Massachusetts
In cache
Justine Tear
The Old Grey Mare
15,151.3
Hessen, Germany
Last seen on 25th Sept
Marked as missing 🙁
Kevin & Sue Bastow
dartmoor strider
14,225.7
Coffs Harbour
New South Wales
Still visiting!
Tammie Walker
tacks spaniels
12,423
Washington
In cache
Steve Godfrey
Godfairies
8,064.8
Near Sunderland
Retrieved - no news since 16th August
Brian Imeson
Ponte Raiders
7,614.5
Halifax, Yorkshire
Still visiting!
Paul Smirfin
The Smirfs
7,010
Ontario
Retrieved
Colin Ramage
BigCandLittleC
6,915.3
Hessen, Germany
Retrieved
Nigel Greer
TeamGruffalo
6,308.6
New York
Visiting
Neil Armstrong
Finder-Man
5,995.4
Limburg, Belgium
Still visiting!
Sue Nickels
tobytwirl
5,855.8
California
In cache
Andy Manning
Touc and Becks
4,663.2
Karlovarsky kraj,
Czech Republic
In cache
Trevor Pearce-Jones
angels55
3,578.7
Ontario, Canada
In a TB Hotel - no news since 6th August
Sammie Jane
tiggersam
3,924.5
Niedersachsen, Germany
Visiting
Janet Kneller
Weather-IT
3,781.9
Hamburg, Germany
In cache
Cathy Pengilly
Pinguigloo
2,615.7
Bayern, Germany
Visiting
Joe Bird
miss130
2,467.4
Salzburg, Austria
In cache - no news since 1st September
Kevin & Hels Ashford
Eros & Us!!!
1,771.4
Nordrhein-Westfalen, Germany
Retrieved
Adam Holland
tango5tavy
1524.9
North Wales
Still visiting!
Paula Grebot
Qashguy+2
1,263.1
Niedersachsen, Germany
Visiting
Bill & Mary Kingdon
The Odyssians
1,050.1
Near Stockport
Retrieved
Suzy Ayshford
jazz_a (-339 miles)
713.3
Exeter
In a TB Hotel since 22nd June 🙁
Colin Masters
Clan Masters
550.2
Knighton, Powys
In cache - no news since 29th August
Zara Lester
zjac
517.3
Noord-Brabant, Netherlands
Retrieved
Jason Deane
dixie_gooner (-2.1 miles)
423.6
TB Hotel on the M62
Still visiting!
Paul Blake
ping68
177.4
Hampstead Heath
Visiting
Theresa Phillips
taz9213
13.7
Exeter
In cache - no news since 4th June 🙁
Alex Goedhals
Team Noodles
0
With Owner
Never released 🙁
Emily Branson
Brave bransons
0
With Owner
Never activated 🙁
David Routley
daver59
0
With Owner
Activated - but withdrawn from race 🙁
Graham North
Flexburyites
0
Please confirm location
Unknown