Have you joined the Dartmoor Geocaching Facebook group? – please click here
Download file for GPS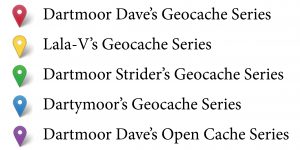 The map is interactive and can be moved, zoomed in and out, and will display a possible route for each series on a 1:25,000 OS map.
PLEASE NOTE: A possible route shown on the map does NOT indicate that there is a path or that the route is safe. You are responsible for determining your own route.
The markers indicate the starting point for each series. Click on the marker to show the number of caches and distance and the links to a full series description and the cache description.
Click HERE to display a table of all Dartmoor series.
Please note that this map is not yet complete and will constantly be added to.
Last updated 20-Jul-21.