A beautiful January day was forecast and so much on the "to do" list. Much of it centred around the wonderful Widecombe area. A few caches of mine needed to be checked, a difficult multi to continue, but the main objective was my first attempt at a Whereigo – A Moment in Time. But whilst in the middle of planning, 2 new caches suddenly appeared! Another multi in Widecombe and a difficult 4.5/3.5 multi just up the road from there. So, some rapid re-planning was needed.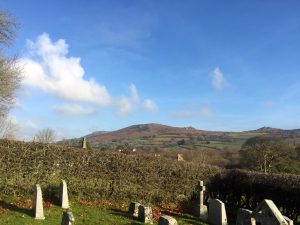 The day was indeed a beautiful one and the first stop was the church micro at Widecombe. I soon rushed around the necessary gravestones and the CO kindly organised that the last waypoint was a seat where you could sit and calculate the final. However, when I got there I think the tree had gone! I can't be sure so have sent photos to the CO, but there was a freshly sawn stump right where I made GZ and the tree stacked up outside. So I started with a DNF! Right outside the churchyard was the new Widecombe multi and that was soon calculated and the cache found in a lovely spot I hadn't visited before.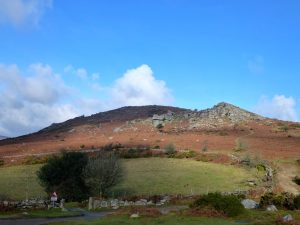 Next on the "to do" list was a difficult Cash in Cache multi which I had started on my previous visit to the area. These caches all appear to be micros and so far, I believe all have actually contained cash! I have in my possession half a £10 note I found in an earlier cache which needs to be matched with the other half, held by two other cachers! There are 3 stages to this multi and I made my way straight to stage 2 having found stage 1 last time. Eventually after a long finger tip search I found it, but no luck at the 3rd stage, which has probably not been found (1 found log, but which looks unlikely). So 1 find and 2 DNFs for me!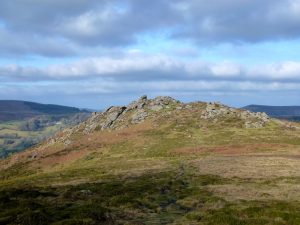 Next up was some checking and maintenance on my nearby series. This series is placed along a delightful row of 3 impressive tors but I hadn't checked them for some time. There had been 3 DNFs on Honeybag Tor but I eventually located the cache. I'm not certain if it had been moved or not, but I moved it closer to the coordinates which seemed to be about 5 to 6 metres out. I easily remembered where the Chinkwell Tor cache was, so then moved down to Bell Tor.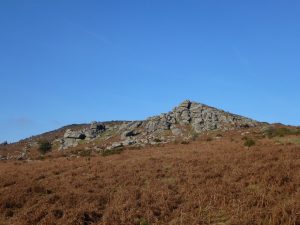 Bell Tor was a problem as the previous finders found it damaged a long way away and kindly moved it back to the coordinates. But of course I had no idea where they had placed it! A long unsuccessful search followed and I eventually sat down for some lunch. I placed my hand into a nearby hole and there was the cache! It had been totally trashed, with only half the bottom still there and a saturated logbook. Just why do people do this! I had come prepared with a replacement and had soon returned to the car.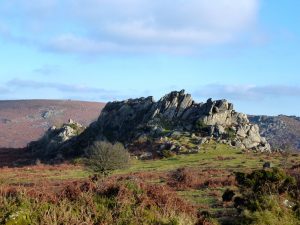 I was already much behind schedule so decided not to bother with the new 4.5/3.5 Cash in Cache multi – it would probably need a whole day anyway. So I drove to the A Moment in Time Whereigo. It looked to have loaded ok as it said I was "Inside Zone" in the car park. However, it gave me no instructions and never having done one before I had no idea what to expect. I walked for about 15 minutes following the red arrow, but it was still telling me I was in the car park!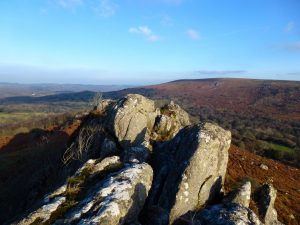 There was nothing more to be done with the Wherigo but there was a cache to be checked on Greator Rocks. Greator Rocks is a magnificent lump of granite and I have a Opencache there which has not been found since 2014. This cache is probably the best located cache I have on Dartmoor, it is in a wonderful position, but being an Opencache is rarely visited. It needs a fairly difficult climb up to the cache, but the views are wonderful. Fortunately I remembered where this cache was and it was soon in my hand – having only ever been found once. The GPS read 2m!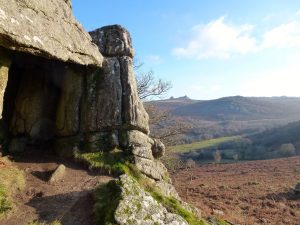 As I was so close I then decided to check out a friend's nearby cache which had received 4 consecutive DNFs. In fact it is almost certainly the cache that has more DNFs than any other cache on Dartmoor, with 131 DNFs but only 35 finds. However, it was soon in my hand and when I checked the logbook I discovered that the last 2 finds were false which meant in reality the cache had 11 consecutive DNFs going back to August.
The last task on my "to do" list was to check on another of my Opencaches, the one on Rippon Tor. This has had a few DNFs and I couldn't remember where it was supposed to be, although there was a hint. Eventually I caught sight of it up through the rocks and managed to retrieve it from above. On my way up to Rippon Tor I was surprised to see an earthcache which I didn't know existed as it is hidden under other icons on the map. Hopefully I have gathered enough information to answer the questions, took some photos and this should be a nice bonus cache to end the day as the sun was rapidly setting.

For those not familiar with Widecombe it is a beautiful area with a wide variety of caches close by. There are a couple of nearby series, my small series of fairly isolated caches, two very difficult multis – neither yet found, a couple of more traditional multis, plus some Opencaches for those who wish to try something different. Certainly something for everybody and an area well worth exploring.