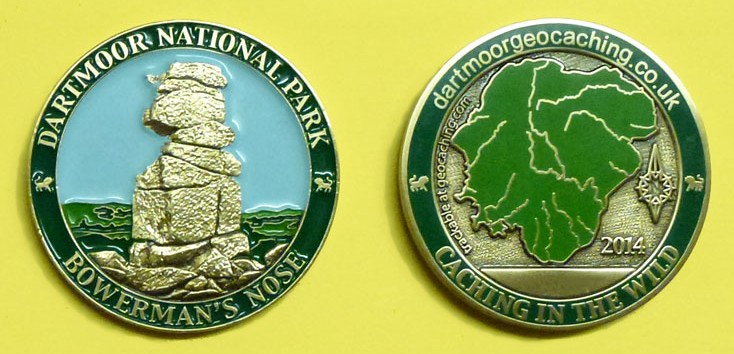 After the initial enthusiasm and interest in the Dartmoor National Park 2014 geocoin it is not surprising that sales have rather dropped off.  We never produced the coin as a serious business venture, but just because we wanted to produce a quality geocoin for Dartmoor and to see what interest there would be and hopefully to get our investment back!  When we first saw the coin its quality well exceeded our expectations, and everybody else who has seen one has been equally impressed.
On Saturday evening I thought I would try to sell one on eBay.  I set the minimum bid at £9 and the Buy It Now price at £14 and went to bed.  When I got up on Sunday morning it had been bid up to £30! 

However, I would much prefer these coins be bought by local cachers or by cachers who come to visit Dartmoor.  I shall therefore continue to sell the coins at £12 (+p&p) to cachers in these categories, but I will only be selling one coin at £12, additional ones will be £16, which was our original stated price and which I think is very fair.  For anybody else finding this site the cost will be £16 (+p&p) – it obviously makes no sense for me to sell them at £12 just to see them resold on eBay.  Hopefully those who have already bought one will treasure it and will not be looking for a quick profit.
I will be at tomorrow night's event at the Rock Inn and will bring a few coins with me.  If you would like one (or more) please let me know by replying to this post – it will save you the postage & packing!