And that was just New Year's Day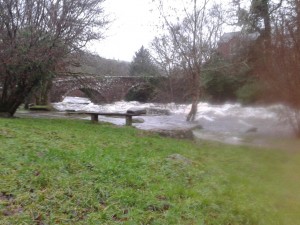 It would have been impossible to have picked a worse day for our first event – just an unbelievable day!  But amazing that so many made such an effort to get here and made the event a huge success.  A big thanks to everybody who turned out to support us 

Not only did you manage to get here, but once here your generousity in support of the Devon Air Ambulance Trust was even more amazing with a total raised on the day of £150. So huge thanks to Caroline (Ochico) for selling so many tickets.  But it didn't finish there, I have subsequently received additional donations for the trust, which of course will also get passed on.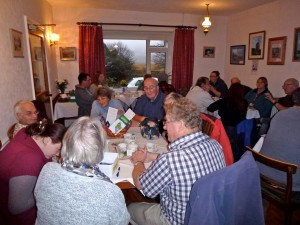 In total we think we served about 55 cream teas and it really was pandemonium but nobody seemed to care – you were all so happy to be meeting up with friends for a really good chat – there really wasn't much else to do on such a day.  Or was there?
Well yes there was, but given the weather I expected nobody to take up the Five Tor Challenge – except of course The Legends (as Phil of LympstoneBogtrotters calls them).  Just after 4:30 in walked Kevin & Sue of the dartmoor striders who had spent the whole day in the most atrocious weather collecting enough points to claim the prize!

 Evidently they drove 50 miles to get from Dartmeet to The Cherrybrook as the road was closed!  For great entertainment do read Phil's log.
A few outstanding items:
If you missed out on donating to the Devon Air Ambulance and would still like to, please contact me as I won't send off the additional amount until the end of January.  The trust was really grateful to everybody who donated and I would be very happy to see our final total reach £200!
I will leave out the additional caches on the Five Tor Challenge until the end of January, so please do feel free to complete it.  If you do manage to, then please call in to say hello.
The new 2014 Dartmoor Geocoin was very well received with many lovely comments recorded in the Event logs.  If you would like one, or another one, please contact me and I will still let all visitors to this web site have them for just £12.