www.dartmoorgeocaching.co.uk proudly announces its first Dartmoor geocoin.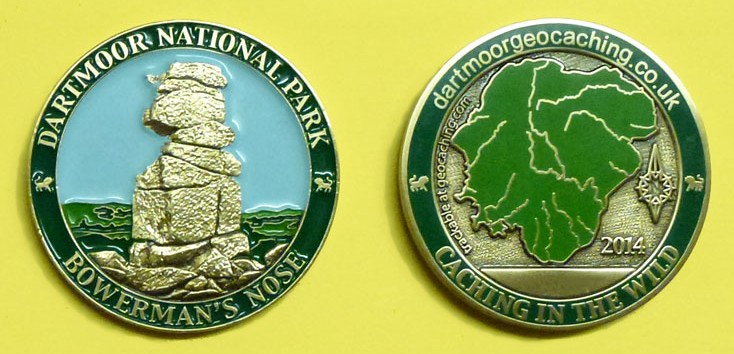 This is a high quality geocoin produced by Landsharkz and trackable at geocaching.com. Being our first attempt at a geocoin we were not too certain of the process and what to expect, but the resulting quality of the coin has exceeded all our expectations.
The coin measures  38mm by 3.5mm and weighs 30gm.  It is made in antique bronze colour with a 3D effect on the front and raised and recessed metal on the back.  The total mint run was 250 and there will not be any additional runs.  We hope to be able to sell between 150 and 200 and keep the rest for gifts, FTF and raffle prizes, etc.
We anticipate the normal selling price will be £16, but those ordering through this site by the end of January, will receive a discount of 25% – so a price of only £12.  The coins are available now, by collection only, but hopefully we can organise mailing for a small additional charge, but probably not before Christmas.
If you wish to reserve one of these geocoins please reply to this post below.  You will need to be registered with the web site to reply, and if you have not previously posted on the web site there will be a short delay until your reply is authorised.
Initially we will be limiting the number of coins to 3 per order, to ensure that all those wanting a coin will be able to get one.
Coins may be collected, BY ARRANGEMENT ONLY, from The Cherrybrook (between Two Bridges and Postbridge), but please do not just turn up as we may not be here.