Ruby Red Ramble?  Well, if I were the CO, that's what I would call it!
We left our beloved Dartmoor and came north today to have a crack at 3 different series, but this was the pick of the bunch.  There are 9 traditional caches (plus a puzzle cache that was disabled at the time) placed by digbysue to the west of Hatherleigh which form a delightful series.  There is also a 10th cache by Station Master along the same route.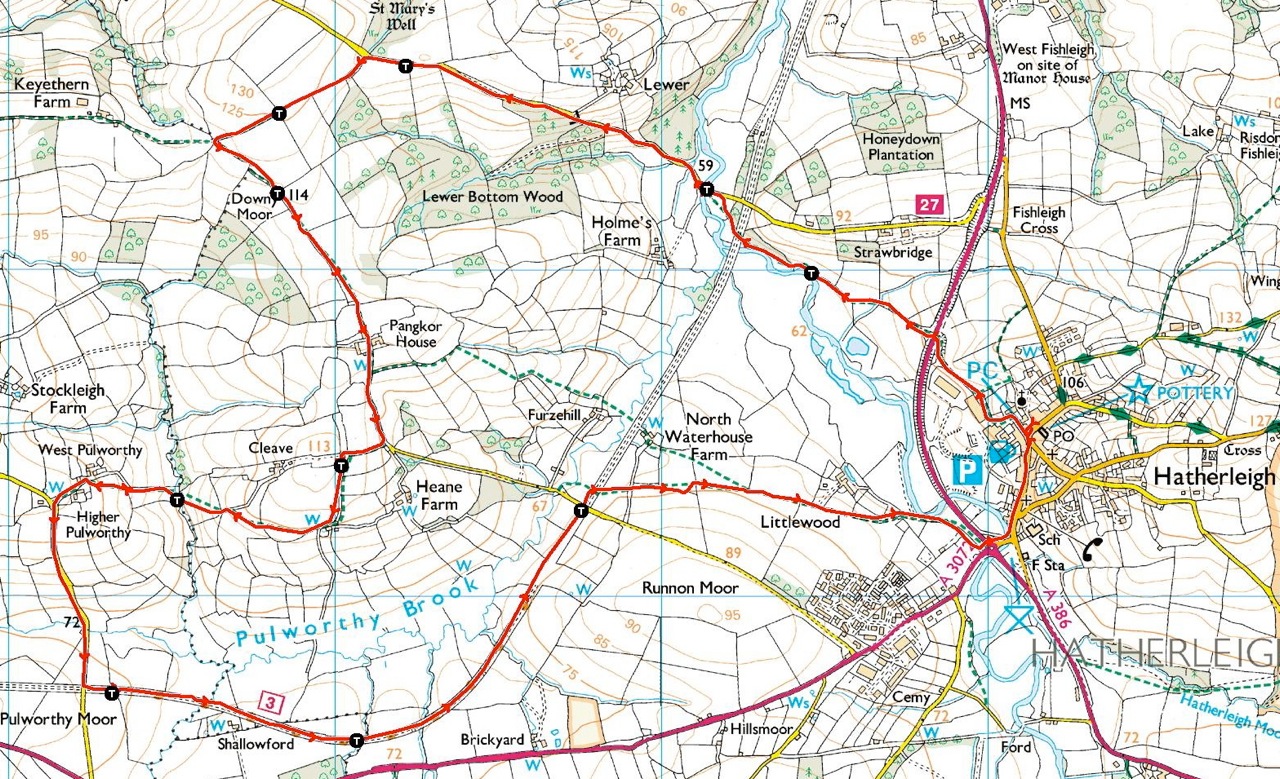 I was a little confused when planning this route as I read the description for the first cache (On the Lew!) and jumped to the wrong conclusion that this was a 4 mile walk taking in all of the caches.  It is not it's 6.25 miles!  However, this is a very enjoyable walk in "Ruby Country" named after the Devon Red or Ruby Red cattle.  Not that we saw any, except on the lovely mural painted on the underpass, but we did see lots of red Devon mud!
We parked right opposite the post office in Hatherleigh and followed a series of footpaths, a couple of shortish minor road sections and also a disused railway section in a circular-ish route (see map above) to take us back to Hatherleigh.  In total we counted about 20 stiles, the early ones being very dog-friendly, but the last 5 definitely not.  If you have a large dog (not as agile as our Tigger hound) then  ensure that you follow the road back from the last cache and not the obvious footpath.
Not only a delightful walk, but also a delightful series of caches.  As I said in my Found log on the last cache "The caches and hides were interesting and varied and it was obvious that the COs had given preparation and execution a great deal of thought."  An added bonus to the day was that whilst we were searching for one particularly difficult cache a car stopped and it was Digby who was keeping a very close eye on his caches and gave me a nice push in the right direction!
So we had a great morning, a lovely walk and a very nice series of caches which we would highly recommend.  If they were mine I would add another cache in the centre of Hatherleigh to indicate the starting place and then number them from 1 to 10 to make it clearer that all the caches belonged to one series, but I think that Digby has his own ideas on how it should be developed.  We may have to come back and find some additional caches quite soon!  Thank you digbysue for a very enjoyable morning.
Please read digbysue's reply to this post by clicking on Comment below.