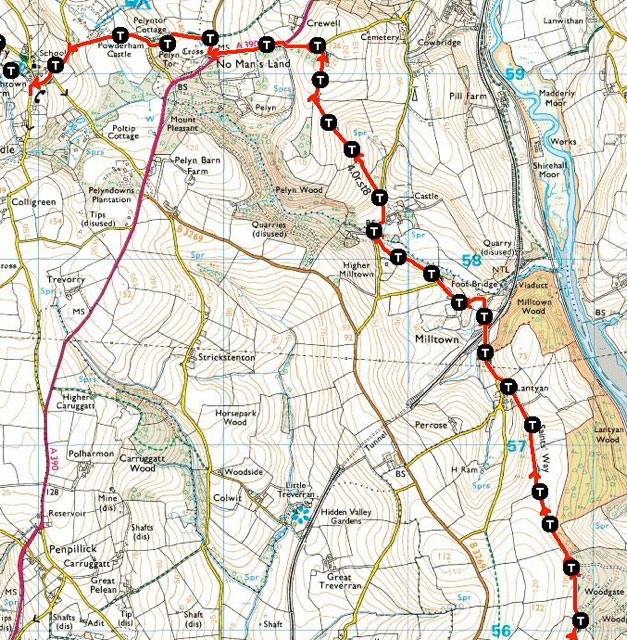 We always knew that apart from the northern loop, HALO did not lend itself to circular walks and that ideally two cars would be necessary, one at each end of a section.  We didn't have that luxury so we arranged for a taxi to take us to Fowey so that we could walk back. Unfortunately we arranged to be dropped off west of Fowey right by a cache, only to discover that it was of unknown type, for which we hadn't prepared! The next cache we discovered was missing and had been disabled, so we got the day off to a bad start.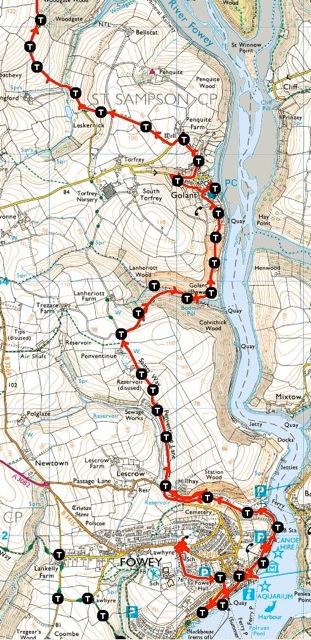 We eventually arrived in Fowey to start this section of HALO, but of course these were urban micro type caches, which we don't normally favour.  However, looking back over the day, these were probably the highlight of the day! No, the highlight of the day was undoubtedly our visit to Pinky Murphy's located on North Street as you leave Fowey.  This is a delightful, eclectic, dog-friendly, internet café which might seem more appropriate in a city but which we really liked and which provided us with hot chocolate and cake.
Fowey is a lovely town and has a charming mix of back street alleys and little lanes with numerous interesting shops and eating places and probably our favourite Cornish town.  The required route took us down several of these alleys and lanes and the various HALO caches we found were all well placed in interesting spots.
On leaving Fowey we made a big mistake which cost us time and energy.  Thinking we could get off the main road we chose a parallel footpath which took us onto the private dock road and we found ourselves under the next cache and had to retrace our steps to get back on track.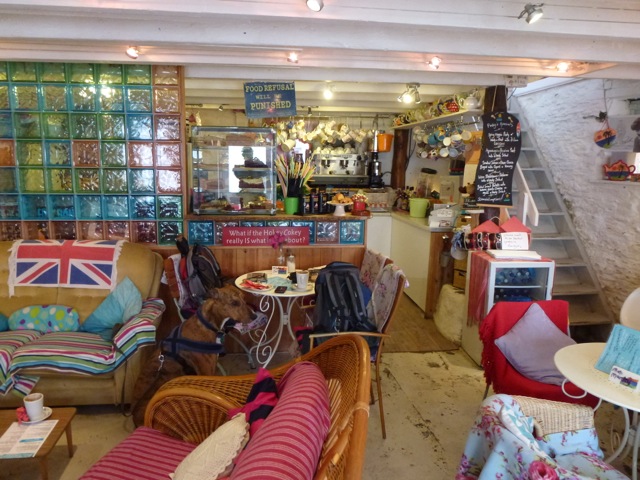 There is very little of interest to relate about this stretch of HALO except that it consists of 49 caches on a route of 8.4 miles, only 2.4 miles of which are off road.  However, we managed to walk 11.3 miles taking us 10 hours 20 minutes to find and log those 49 HALO caches, plus just one other cache.  We did really want to find the Sawmills cache, but didn't spot how to get there and we were way behind schedule anyway.  In fact we found the last cache in total darkness with the light of our torch, which we then used to return to the car parked at Lanlivery.