Have you joined the Dartmoor Geocaching Facebook group? – please click opposite –>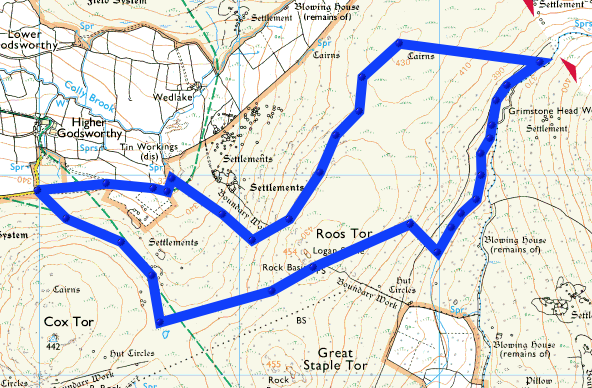 Name: Roos Tor Ramble
No. of Caches: 17 (includes 2 caches on route by same CO)
Length: 4.5 miles to be completed clockwise
Owner: Dartmoor Dave
Cache Types: Most of the caches are large enough to hold swag and trackables and are reasonably easy to find. There are a couple of novelty type caches.
Bonus Caches: 1 bonus cache NOT at the end of the series. Only 6 bonus numbers need to be collected, all of which are repeated in a second cache. Calculate the bonus coordinates as soon as you have sufficient numbers.
Terrain: There are reasonable paths on much of the route, but not between RTR06 and RTR08 which is typical moorland grass, although fairly dry, even in winter. The 2 climbs are relatively easy. However, this is a fairly remote walk and adequate clothing is essential. Do NOT rely solely on your GPS.
Parking: Parking for about 6 cars on the grass at the start point.
Description: A circular walk which is not too strenuous and would be ideal for a youngish family, but is not pushchair friendly. Good quality caches throughout with some excellent views. Allow at least 4 to 5 hours.
| Name | GC Code | Placed | Type | Size | Diff | Terr | PMO | FPW | Owner |
| --- | --- | --- | --- | --- | --- | --- | --- | --- | --- |
| RTR01 - Roos Tor Ramble - Rock | GC7EXKH | 19/11/17 | Traditional | Small | 2 | 2 | N | 1.71 | Dartmoor Dave |
| RTR02 - Roos Tor Ramble - Gert | GC7EXKQ | 19/11/17 | Traditional | Small | 2 | 2 | N | 0.28 | Dartmoor Dave |
| RTR03 - Roos Tor Ramble - Clitter | GC7EXKT | 17/11/17 | Traditional | Small | 2.5 | 2 | N | 0.29 | Dartmoor Dave |
| Seat with a View 25 - Roos Tor | GC7EXKV | 15/11/17 | Traditional | Small | 2 | 2.5 | N | 1.13 | Dartmoor Dave |
| RTR04 - Roos Tor Ramble - Boundary Stones | GC7EXM1 | 19/11/17 | Traditional | Small | 2 | 2.5 | N | 0.9 | Dartmoor Dave |
| RTR05 - Roos Tor Ramble - Settlements | GC7EXM2 | 19/11/17 | Traditional | Small | 2 | 2.5 | N | 0.92 | Dartmoor Dave |
| RTR06 - Roos Tor Ramble - Grass | GC7EXM6 | 19/11/17 | Traditional | Small | 2 | 2.5 | N | 0.31 | Dartmoor Dave |
| RTR07 - Roos Tor Ramble - Cairns | GC7EXM8 | 20/11/17 | Traditional | Other | 2 | 3 | N | 3.81 | Dartmoor Dave |
| RTR08 - Roos Tor Ramble - River | GC7EXMA | 20/11/17 | Traditional | Small | 2.5 | 3 | N | 8.38 | Dartmoor Dave |
| RTR09 - Roos Tor Ramble - Weir | GC7EXMB | 20/11/17 | Traditional | Small | 2 | 2.5 | N | 0.98 | Dartmoor Dave |
| Little Bridges # 1319 Grimstone Leat | GC7EXME | 17/11/17 | Traditional | Regular | 2 | 2.5 | N | 1.84 | Dartmoor Dave |
| RTR10 - Roos Tor Ramble - Leat | GC7EXMG | 20/11/17 | Traditional | Regular | 2 | 2.5 | N | 1.84 | Dartmoor Dave |
| RTR11 - Roos Tor Ramble - River View | GC7EXMJ | 19/11/17 | Traditional | Small | 2 | 2.5 | N | 0.32 | Dartmoor Dave |
| Roos Tor Ramble - Bonus | GC7EXMP | 19/11/17 | Mystery | Regular | 3.5 | 2.5 | N | 27.02 | Dartmoor Dave |
| RTR12 - Roos Tor Ramble - Mining | GC7EXMR | 17/11/17 | Traditional | Regular | 2 | 2.5 | N | 0 | Dartmoor Dave |
| RTR13 - Roos Tor Ramble - Lake | GC7EXMV | 20/11/17 | Traditional | Other | 2 | 2 | N | 5.32 | Dartmoor Dave |
| RTR14 - Roos Tor Ramble - Bracken | GC7EXMW | 19/11/17 | Traditional | Small | 2 | 2 | N | 23.34 | Dartmoor Dave |
FPW - I've used the Wilson Score Interval method to rate caches by favourite points. This is far better than a simple count or average as it takes into account the total number of finds. It does not include logs from basic members.
Updated 22nd January, 2019